An emerging leader in IBD research, applying his background in epidemiology to improve quality of life for ulcerative colitis patients coping with the painful condition of pouchitis after surgery.
Harnessing Data to Affect Real-World Outcomes
Dr. Edward L. Barnes' thirst for answers is unquenchable. It has taken him from a small town in South Carolina — where he once thought he'd become the town doctor — to the forefront of innovative research at the University of North Carolina at Chapel Hill.
"Growing up, my dad's best friend was the primary doctor in town and I saw how he changed people's lives," said Dr. Barnes. "I went into medicine because I wanted to do that too."
Once he was in college, Dr. Barnes got involved in clinical research and saw he could follow a different path to make a difference.
"When I started doing IBD research, it was the best thing that happened in my career," he said.
Dr. Barnes went on to get a Master of Public Health with a concentration in Clinical Effectiveness to give him the foundation he needed for the large studies he wanted to do in IBD.
Now Dr. Barnes is applying his expertise in epidemiology and the study of "big data" to tackle one of the most difficult complications for people with ulcerative colitis – the development of pouchitis after J-pouch surgery. This painful inflammation of the pouch lining impacts up to 80% of patients after surgery and, until now, the epidemiology and disease course for these patients has not been well characterized.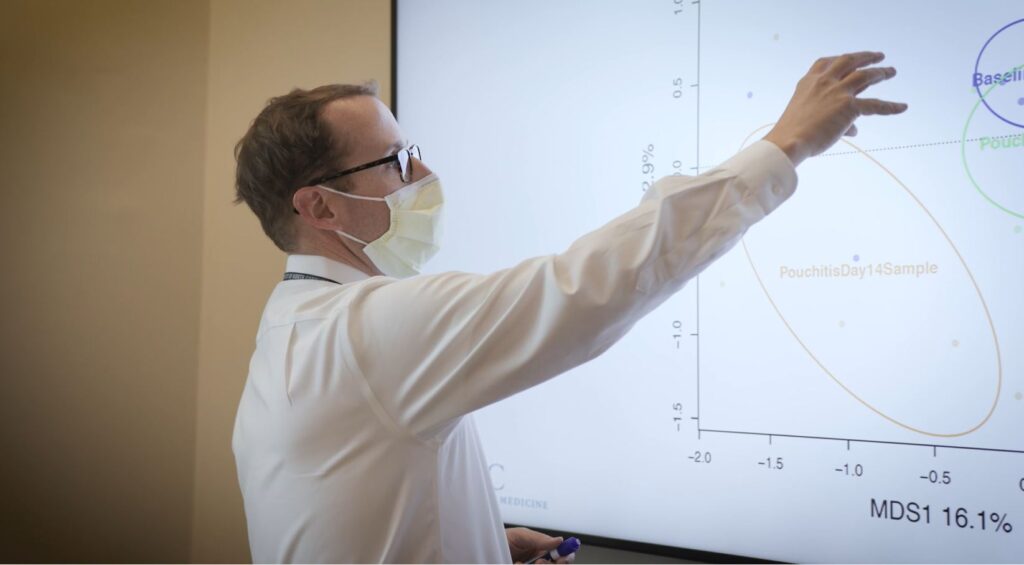 "As an IBD fellow I saw that treating pouchitis usually involved a 'try it and see' approach because we didn't have much real-world data," said Dr. Barnes.
"But data is being amassed all around us – we just need to understand how to harness it to improve our decision-making."
Recognizing that he could more effectively help these vulnerable patients if pouchitis were better understood, Dr. Barnes created the first validated algorithm to define the condition in large databases, making it possible to describe pouch outcomes on a larger scale.
Today, Dr. Barnes leads the pioneering PROP-RD study (A Prospective Registry for the Study of Outcomes and Predictors in Pouchitis and Pouch-Related Disorders) to investigate real-world outcomes in patients after pouch surgery across eight, geographically diverse, centers in the U.S. This registry will provide the infrastructure to evaluate the natural history, medication usage patterns and long-term durability of therapies, as well as identify new assessment tools.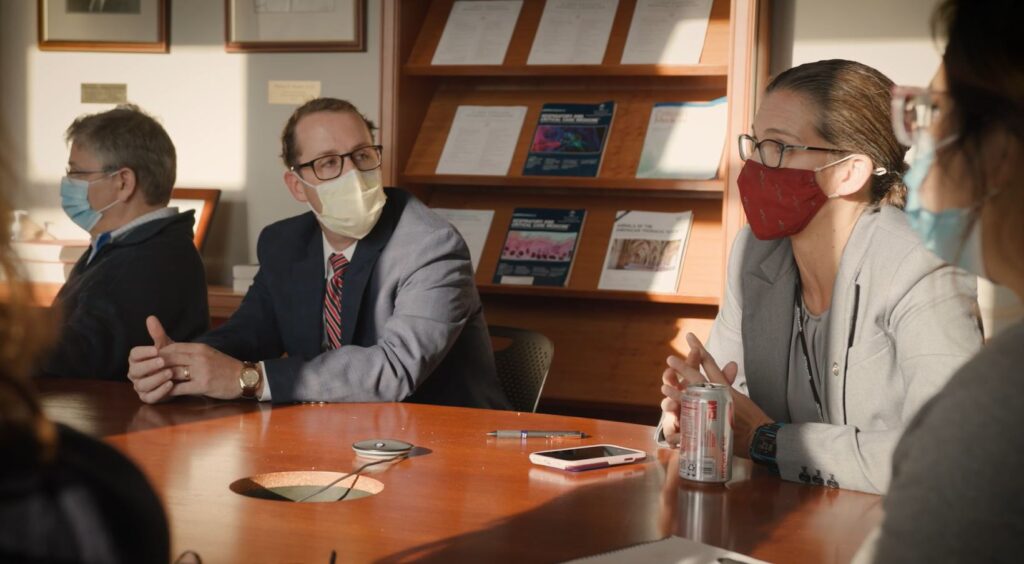 Dr. Barnes is also engaged in a similar study in Denmark, working with Dr. Tine Jess at the Center for Molecular Prediction of Inflammatory Bowel Disease (PREDICT) at Aalborg University in Copenhagen. An initial project evaluating data from the Danish Health Registers identified striking changes in the incidence of pouchitis over time, which may provide a new foundation for further study of the epidemiology and drivers of the condition.
Together, these two epidemiological studies are giving the IBD field insights into the prevalence and treatment of pouchitis on a larger scale – opening avenues for the development of novel therapies.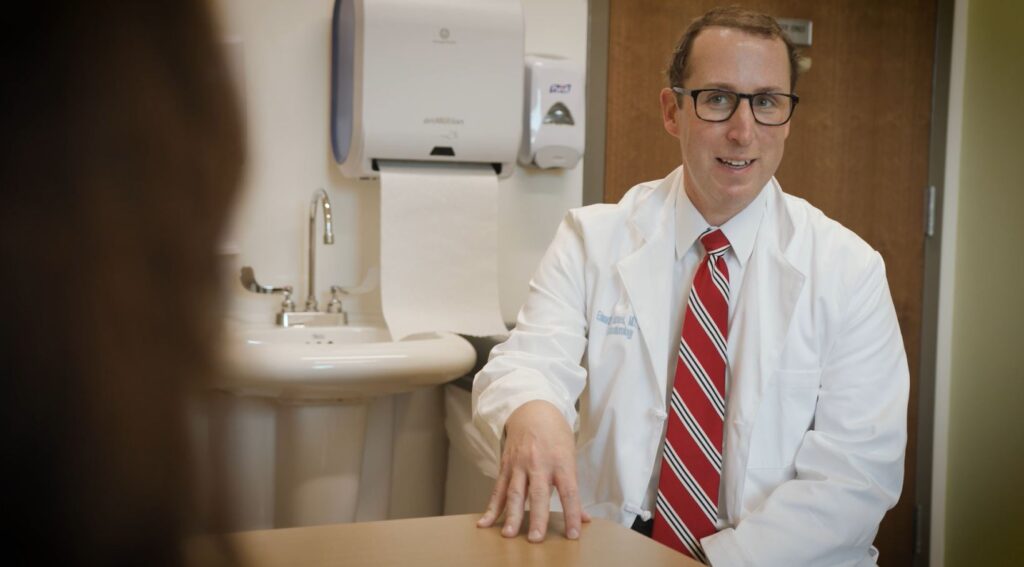 "Through this research, I hope to be able to develop criteria to predict which patients are at greatest risk for pouchitis and identify earlier interventions to improve their quality of life after surgery," said Dr. Barnes.
One area of study that Dr. Barnes is particularly intrigued by is the microbiome. "Forty percent of people who develop pouchitis get it in the first year after surgery," he said. "We're looking at shifts in their microbiome that happen in that year to see if we can identify biomarkers that would enable us to intervene earlier for high-risk patients."
Dr. Barnes credits his IBD mentors for supporting him in his research quest and he tries to pay it forward by mentoring his junior colleagues and helping them find the same joy in their careers that he's found in his.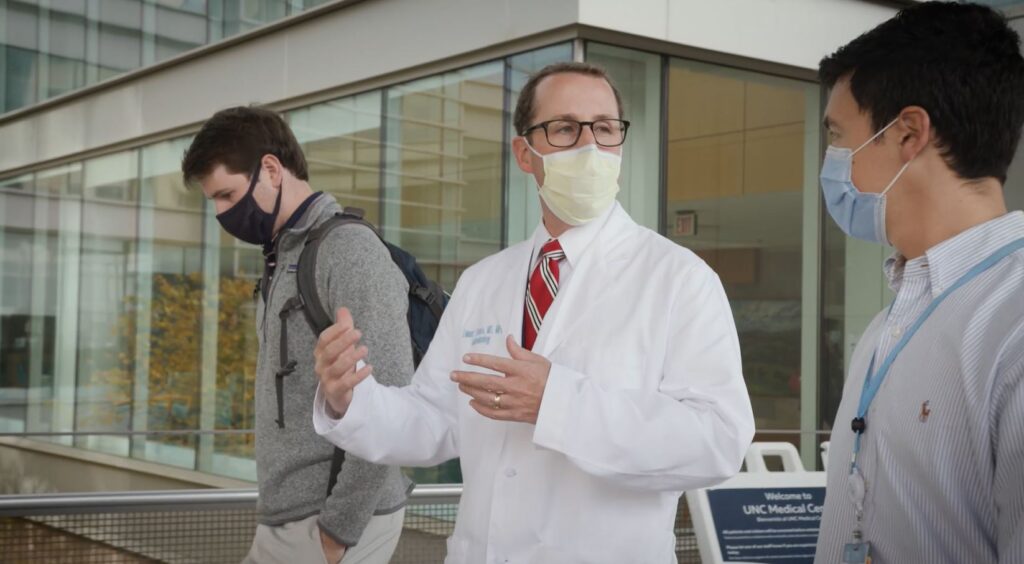 "I'm thrilled to do what I do every single day – taking care of patients that need my help – and I hope I'm doing good in that. If I can motivate someone else to stick with academic medicine, and even better to focus on IBD, that's an important measure of success for me."